The Virtualplus Voice Solutions use these Toolkit Modules to create a highly scalable, carrier grade and proven system for SMS, EMS and MMS delivery.

You are able to licence and own this system or we are also able to provide it on an outsource ASP basis. Virtualplus also sends millions of messages per month, we are able to offer highly competitive rates via our ASP division.
Our Wireless modular services can plug into your existing infrastructure using open standards. All services are available via our API, and with the "V+ Toolkit" approach applied, integrating the technology you want is straightforward. By partnering with us you also gain immediate access to our Global Wireless Interconnect Network. This covers 30 Data Centers and over 500 Virtual SMSC connections. Test It Now. We transmit millions of messages per month, all of which go through our proven platform. Here are some of the services that can be provided with the V+ Toolkit.
Outbound SMS & Bulk SMS
The Virtualplus platform is capable of sending out SMS messages via a variety of mechanisms (SMPP, OIS, CIMD, XML-RPC, HTTP POST and more). For carrier grade ASP message delivery our
Virtual SMSC
lets you receive multiple input sources from end user customers and then route them to multiple outbound SMS delivery gateways. Think of it as a Cisco router for SMS.
Inbound SMS
As well as sending out SMS messages it is also important to receive the responses and direct them to the heart of your application. Our inbound routing platform takes Mobile Originated (MO) messages, receives them and then pushes them over a variety of interfaces to your application. This inbound functionality can be used as a key component for E-mail from Mobile, SMS voting, SMS tracking, SMS chat.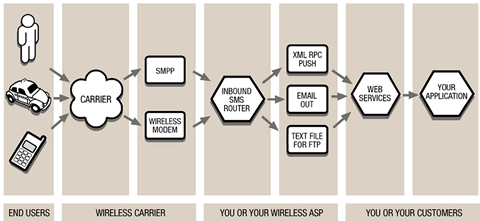 Click Here to See a Bigger Illustration
Virtualplus maintains a global network of POPs each of which in turn connect to multiple Wireless carriers. We are constantly working to provide the most up to date network with the best connectivity and lowest cost per message
High Level Means of Sending SMS, EMS and MMS
The Virtualplus Message delivery systems are able to provide several means of sending messages to your customers :- You can send us a correctly formated spreadsheet and we can do the work for you OR You can use our Web-based Content Distribution System, which manages users, groups with a central content media store.
Low Level Means of Sending SMS, EMS and MMS
If you are a developer then we are also able to plug SMS, EMS and MMS delivery mechanism directly to the heart of your application. We provide message interfaces via HTTP Post, XML-RPC API and via SMPP (the Logica SMS protocol).
More than Just Text Messages
Connecting to the V+ Toolkit via the Virtualplus API not only gives you the ability to send text messages. You can also send multimedia based MMS and EMS messages. Becuase our platform is a unified platform we can also offer the ability to send and receive E-mail and Fax via the same API.
Our Message delivery systems are able to support
· Interfaces Via XML-RPC, HTTP Web Post and SMPP
· Built In Powerful MMSC Capabilities
· UDHI (User Data Header Indication)
· Voicemail and Fax notification indicators
· WAP Push messages (independent of gateway).
· WAP OTA configuration of settings and bookmarks
· 2 Way SMS via Shortcode and Longcode
· Class 2 (Direct to SIM) and Class 0 (Direct to Screen)
· Ringtones, Logos and other Binary Data
· Support for E-mail and Fax with same interface